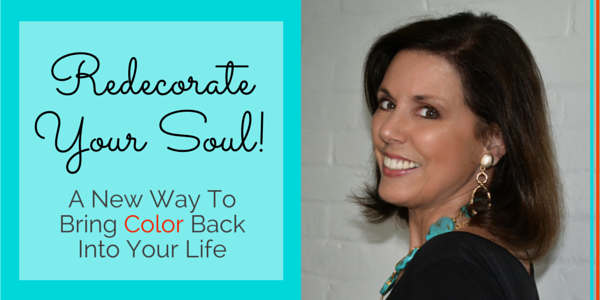 "Redecorate Your Soul"™ program is a motivational reboot to a path back to yourself.
It's my signature program that will help you slow down enough to hear your own voice, remember who you are, and plan how to move on.
It's all about stepping out of your comfort zone all by yourself and embracing new bold colors in your life even if that feels scary.
And I'm here to help you do just that!
Contemplate this…
What if being by yourself right now is exactly what your Soul needs?
And… what if being alone didn't mean being lonely?
---
IN OUR SIX WEEKS TOGETHER WE WILL…
Assess where you are now and where you are headed
Get you more comfortable and confident as you face the world on your own
Find that inner voice and what you are passionate about and identify ways to incorporate them into this next phase of your life
Customize a plan to get the new you "back out there"
Get started building your new life
AND HERE'S HOW IT WORKS…
When you register, you'll immediately receive my free gift, "7 Effective Ways to Change it Up," to help you get started on your new path.
We'll meet each week—on a scheduled coaching call, or in person if you're near Greenwich, Connecticut—and we'll build on the goals set in our initial session. There will be some fun exercises in between that are designed to enhance your progress along the way.
You'll also receive Redecorate Your Soul™ Worksheets and an awesome Vision Board Template.
And in the event you need it, you will have email access to me between sessions as well!
Everything we need to get started, including scheduling information, will be emailed to you promptly upon signing up.  So let's do this!
REDECORATE YOUR SOUL™ 6-WEEK PROGRAM:: $600

Not quite ready to redecorate yet?
 My "Individual Jump Start" coaching sessions are motivational in nature and designed to get you through specific dilemmas that have you feeling stuck.  It's most appropriate for those requiring a little more help taking those first steps alone or those who just want to stop running and come home. Also available in a package of 3.
INDIVIDUAL JUMP START COACHING SESSIONS :: $175

Where to begin?
Hop on the phone with me for 15 minutes.  Give me one area where you are stuck and we'll not only get to the source of it, but we'll map out a plan to unearth it and free you so that you can begin to redecorate your soul!
https://lindahannettcoaching.acuityscheduling.com/schedule.php